Pupil Premium
Is my child eligible?
Children in Reception, Year 1 and Year 2 automatically get free school meals if they go to school. It's called universal infant free school meals. You do not have to apply to get these meals, but if you do receive one of the benefits listed below, you should still apply. This is because it can help raise extra funds for your child's school (called Pupil Premium). This Government funding can help with extra tuition, teaching and after school activities.
If your child is in Year 3 or above, you must receive one of the following benefits to get free school meals:
Universal Credit - with an annual earned income of no more than £7,400 after tax
Income Support
Income-based Jobseeker's Allowance
Income-related Employment and Support Allowance
Support under Part 6 of the Immigration and Asylum Act 1999
The guaranteed element of Pension Credit
Working Tax Credit run-on (paid for the four weeks after you stop qualifying for Working Tax Credit)
Child Tax Credit (with no Working Tax Credit) with an annual gross income of no more than £16,190
You must apply for these free school meals.
Apply for free school meals
Click below to apply:
Apply for Education Welfare Benefits - Introduction - Cambridgeshire County Council website (achieveservice.com)
Pupil eligibility and funding rates 2022 to 2023
The following groups are eligible for pupil premium:
pupils who are recorded as eligible for free school meals, or have been recorded as eligible in the past 6 years, including eligible children of families who have no recourse to public funds (NRPF)
children looked after by local authorities, referred to as looked-after children
children previously looked after by a local authority or other state care, referred to as previously looked-after children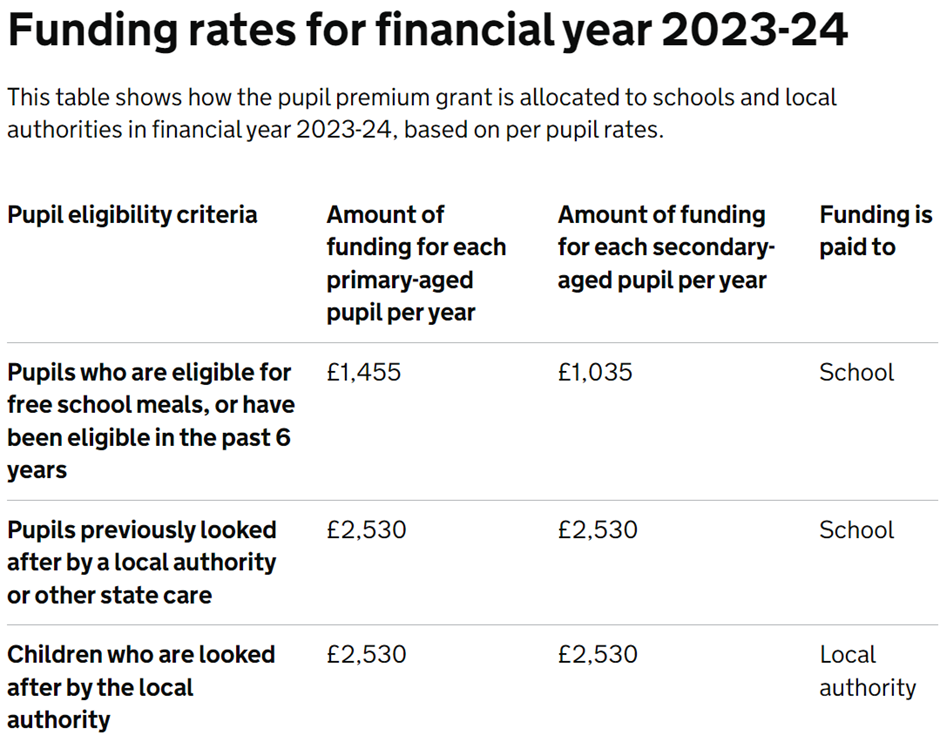 Service pupil premium (SPP)
Service pupil premium is additional funding for schools, but it is not based on disadvantage. It has been combined into pupil premium payments to make it easier for schools to manage their spending.
Schools get £320 in 2022 to 2023 for every pupil with a parent who:
is serving in HM Forces
has retired on a pension from the Ministry of Defence
This funding is primarily to help with pastoral support. It can also be used to help improve the academic progress of eligible pupils if schools deem this to be a priority.
It is important that all children in our care reach their full potential so we endeavour to ensure support is carefully matched to every child's needs whatever their background.